About Otto NC:
Otto NC is located just south of Franklin NC and within Macon County. Nature is the claim to fame in this part of North Carolina, which has plentiful waterfalls and forested territory. Asheville NC is approximately an hour away, and Knoxville, TN is just across the border. With a convenient location, and natural setting, Otto NC has a lot to offer.

In the 2010 census, Otto NC had a population of almost 3,000 according to Zip-Codes.com. At that time, the median age was 47 and the average household income was around $35,000. The residents of Otto NC are mostly white, with small communities of other ethnicities. The Hispanic population is the largest of these communities.

Information about Otto's real estate market can be found on Trulia.com. From August 2012 through October 2012, Otto homes had a median sales price of $128,500, a decrease of 3.6% from last year. The average listing price is recorded as $209,334 . Other statistics state that Otto NC has an average price per square foot of $150 which is a 31% increase. The number of homes sales have also increased by 50%.
Otto NC Homes for Sale by Price:
Under $50,000
$ 50,000 - $100,000
$100,000 - $150,000
$150,000 - $200,000
$200,000 - $300,000
$300,000 - $600,000
Over $600,000

Otto NC Homes for Sale by Type:
Startup Homes for Sale in Otto NC
Median Homes for Sale in Otto NC
Upscale Homes for Sale in Otto NC
Luxury Homes for Sale in Otto NC
Single Family Homes for Sale in Otto NC
Rentals in Otto NC
Res. Lots and Land for Sale in Otto NC
Foreclosures for Sale in Otto NC
About John Becker with "BALD HEAD REALTY" John Becker "Bald Head" is a Real Estate servant/broker in Franklin, North Carolina.The Franklin NC market is primarily made up of "second homes" but not limited to that exclusively. Located in the beautiful Smokey Mountains of Western NC, Franklin is a desirable place not only for many of today's retirees, but for anyone who wants to live in a friendly, quiescent and visibly therapeutic environment. A resident of Franklin NC, since 1993, John is uniquely qualified to help Buyer's & Sellers of real estate in the Franklin area. As an Accredited Buyer's Representative (ABR), Seller's Representative Specialist (SRS), and Short Sales and Foreclosure Resource (SFR), Mr. Becker is well trained to assist you in these highly specialized fields of real estate representation. John Becker / Bald Head one of Franklin's leading Realtors, is the Broker/Owner at BALD HEAD REALTY located at 411 E. Main Street in Franklin NC. As a former associate Broker at Exit Realty, John has been the lead listing and selling agent each year since beginning his real estate career there in 2006. In the challenging year of 2009, Mr. Becker was amongst the "Top 10 Exit Realtors" in all of North Carolina. And is now ranked #1 in North Carolina from January 1st through December 30th of 2011 for the most transaction sides "closed". John, was recently voted "Realtor of the Year" for 2010 by his peers and colleagues in the Franklin Board of Realtors!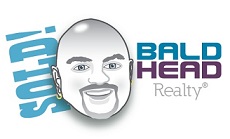 Macon County NC Real Estate with Specialty in Franklin & Otto
"Offering Solutions to My Clients"
Your gateway to Paradise in the Smokey Mountains of Franklin, NC. John Becker / Bald Head, provides a superior level of informed, professional real estate service to Buyers and Sellers. You can obtain any information you require in order to make an informed purchase regarding Franklin NC Homes for Sale and Otto NC Properties for Sale with John Becker at Bald Head Realty. Call 828-506-3719
"My Dream Is To Help You Move Into Yours"