About Macon County NC:
Macon County NC is one of the fastest growing counties in the state of North Carolina. Home to the Nantahala River, Macon County draws tourists who enjoy the thrills of whitewater rafting. Macon County is an hour southwest of Asheville NC, and only a few hours from Atlanta, so you can revel in the wilderness while keeping the city close by.

In the 2000 census, Macon County NC was home to almost 30,000 people as stated by Wikipedia. With a median age of 45, the largest percentage of the population falls between the ages of 45 and 64.

According to City-Data.com, the median price of a home in Macon County NC in 2012 is around $300,000.

Macon County NC Homes for Sale by Price:
Under $100,000
$100,000 - $200,000
$200,000 - $300,000
$300,000 - $400,000
$400,000 - $500,000
$500,000 - $1 Million
Over $1 Million
Macon County NC Homes for Sale by Type:
Startup Homes for Sale in Macon County NC
Median Homes for Sale in Macon County NC
Upscale Homes for Sale in Macon County NC
Luxury Homes for Sale in Macon County NC
Single Family Homes for Sale in Macon County NC
Rental Homes in Macon County NC
Res. Lots and Land for Sale in Macon County NC
New Construction for Sale in Macon County NC

About John Becker with "Bald Head Realty" John Becker "Bald Head" is a Real Estate servant/broker in Franklin, North Carolina.The Franklin NC market is primarily made up of "second homes" but not limited to that exclusively. Located in the beautiful Smokey Mountains of Western NC, Franklin is a desirable place not only for many of today's retirees, but for anyone who wants to live in a friendly, quiescent and visibly therapeutic environment. A resident of Franklin NC, since 1993, John is uniquely qualified to help Buyer's & Sellers of real estate in the Franklin area. As an Accredited Buyer's Representative (ABR), Seller's Representative Specialist (SRS), and Short Sales and Foreclosure Resource (SFR), Mr. Becker is well trained to assist you in these highly specialized fields of real estate representation. John Becker / Bald Head one of Franklin's leading Realtors, is the Broker/Owner at BALD HEAD REALTY located at 411 E. Main Street in Franklin NC. As a former associate Broker at Exit Realty, John has been the lead listing and selling agent each year since beginning his real estate career there in 2006. In the challenging year of 2009, Mr. Becker was amongst the "Top 10 Exit Realtors" in all of North Carolina. And is now ranked #1 in North Carolina from January 1st through December 30th of 2011 for the most transaction sides "closed". John, was recently voted "Realtor of the Year" for 2010 by his peers and colleagues in the Franklin Board of Realtors!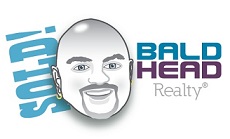 Macon County NC Real Estate with Specialty in Franklin & Otto
"Offering Solutions to My Clients"
Your gateway to Paradise in the Smokey Mountains of Franklin, NC. John Becker / Bald Head, provides a superior level of informed, professional real estate service to Buyers and Sellers. You can obtain any information you require in order to make an informed purchase regarding Franklin NC Homes for Sale and Otto NC Properties for Sale with John Becker at Bald Head Realty. Call 828-506-3719
"My Dream Is To Help You Move Into Yours"